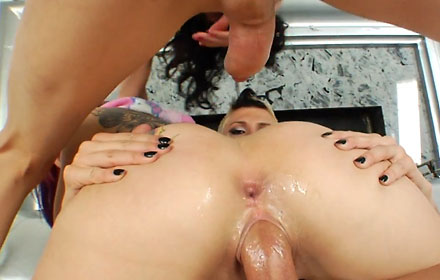 Bio:
Transsexual pornstar and fetish queen Danni Daniels has always been an experimenter in life and in her adult work too. Her appearances in what's been dubbed art pornography have seen her having sex floating in space in the movie Alien Abduction. Hanging upside down, in front of a green screen, while trying to penetrate someone was certainly a challenge, Danni recalls. Born in New York, she's never been one to fit neatly in any box. "I never stand down, I never back down from who I am. I don't gender identify at all, and I'm never offended by anyone calling me any name in the book: shemale, tranny, sir, ma'am. It never has been an issue of me trying to adapt. It's always been 'Danni is Danni, Danni does what Danni does'. Just stand back and let it happen," she says.

Danni has had very little plastic surgery, aside from her breast surgery, and concentrated primarily on hormone treatment. "There is never a point in time where I feel that I'm too masculine or feel that I'm too feminine. The only times that I do feel uncomfortable is when people try to portray me as something, as a single gender. That tends to make me uncomfortable. I get referred to as female, and I get referred to as male, all the time. Actually my favourite sentence is when someone starts by saying 'he,' then refers to me as 'she,' and at the end refers to me as 'he' again. And they don't realise it. I love that," she says.

Danni, who also performed with the musician Peaches on her European tour, says it's her goal to start something of a revolution in the transgender scene. She doesn't subscribe to the idea that tgirls all have to be ultra feminine, and believes they should be as diverse as any other gender. She's more at home in jeans and a tshirt than dresses and can't see why she shouldn't be left alone to wear them. In fact, she's got a pretty cool idea for an ad campaign to really push the boundaries of gender stereotype identification. Danni would love to model for a male underwear advertisement a la David Beckham: topless boobs, black and white, sweaty, with a bulge. "I think it would be really exciting, I think it would just blow people's minds if it was just on billboards," she says. We can't disagree with that! Just hope if it ever happens that first time we see it, we don't crash the car!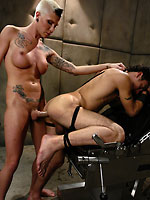 Shemale Danni Daniels
Fucking Slave Video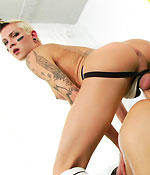 Tranny Danni Daniels
Nails Guy Video Clip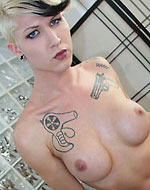 Tattoo Shemale Danni
Daniels Sexy Videos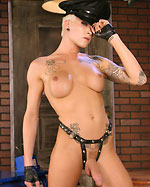 TS Danni Daniels BDSM
Goddess In Leather