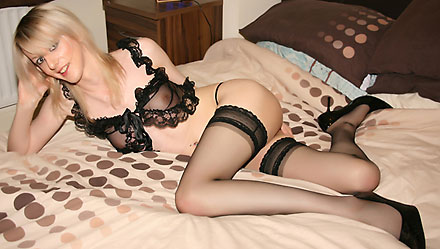 Bio:
British shemale Sammi Valentine has been aptly described as 'The English T Rose' - a reflection of her delicate pink complexion, slender frame, long legs and perky tits all topped off with the most charmingly shy smile. Don't be fooled by her demure appearance though, beneath the 'girl next door' exterior is an incredible libido, zest for life and passion for sex. Even at an early age Sammi knew that her feminine side was the strongest. She recalls enviously watching her female school chums develop and experiencing longings for the fashions they were able to wear. In the privacy of her own bedroom, her wardrobe and full length mirror told the real story. As she grew through her teens her small slim hands, svelt shape and a simply delectable round girlish bottom - 'hips to die for', as one of her girl friends commented - looked and felt so much better dressed as a young woman.

Sammi 'came out' in public for the first time at the age of 19. "It was so scary yet, at the same time, liberating - an incredible 'high' to be honest, a night I will never forget," she says. That 'high' proved to be a turning point for Sammi and she set her sights on becoming one of the leading British shemale XXX stars. As she says, "I adore my 'third gender' shemale status, I love sex and I am a real exhibitionist. I am also a committed sexual adventurer and, with the usual health considerations taken into account, will try almost anything if it's safe, sane, consensual ... and, of course, - horny."

A short while later Sammi met UKrudegirl and her cameraman-producer Laurence 'Alex' Alexander which in turn led to the formation of their own UK production company generating their own DV and HD content. "We are just like a kinky little porn making family," giggles Sammi. In addition to this 'in-house' content Sammi has also worked with many well-established producers including Phoenix Films, Shemale Yum, Joanna Jet and Wendy Williams. Sammi has just recently gotten new boobs and seems to be getting hotter by the day!
British Tgirl Sammi Valentine Banged At Pure TS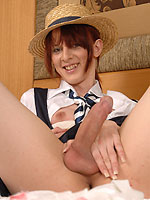 English Tgirl Rose Sammi
Valentine School Fantasy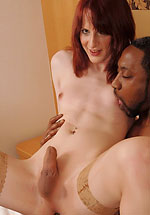 British Shemale Sammi
Valentine Interracial Sex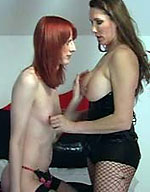 Sammi Valentine Sex
With Strap-on Jane Clips