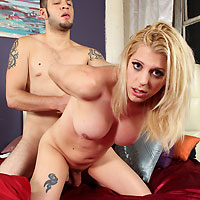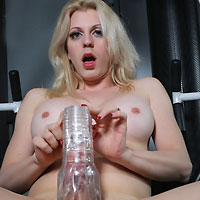 Bio:
Sexy American shemale star Tyra Scott has been in the adult industry for several years now, but it's only recently she has gone all the way to getting a site to call her own. Tyra has long worked in accounting at the same time as doing adult work, and is definitely a career lady with her head screwed on. Her first ever shoot was for Shemale Strokers and she's gone on to be one of their most popular models, heading towards the double figure mark of appearances. She won their model of the year award in 2013, and many of the biggest names in shemale porn have since come calling to shoot with her.

"A real Virginian southern belle, began performing in cabaret acts from 2001 in her native Richmond. But her life as a performer really took off from 2003 when she moved to Las Vegas. "One of my very good friends, who is also a TS came to Las Vegas on vacation. When she got back to Virginia, she said 'Girl, we gotta move to Vegas! There is money in Vegas!' So at the time, I had no man, no real job other than working behind a bar, and no family behind me, so I said 'Why not?'. And 3,000 miles later, I become a Las Vegas resident," Tyra recalls. She has been living there ever since and living as a woman full-time since just a few months after moving there.

Tyra knew from a very young age that she was not meant to be a man. " I honestly do feel I was born in the wrong body. My brain doesn't process things the same way that all my male friends process things. The majority of my female and male friends are all straight. I had always had an attraction to men, but at about age 7 or 8, I remember standing in front of my dresser on Christmas Eve saying 'Santa, please bring me all girl clothes for Christmas'. It wasn't until I was actually 19 and was dared to do drag, that I actually felt right, whole, correct, complete," she says.

Now she has got her own site, Tyra is busier than she's ever been in the adult industry and she's loving it. She's pretty versatile in her performing career, but in her private life Tyra is very much a bottom. "I love feeling a man inside me. My new favorite sexual position is being up against a wall and I love being on my stomach. Great great orgasm that way," she explains. Mmmmmmm ....
American TS Tyra Scott Up Close & Personal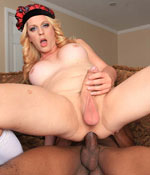 Shemale Tyra Scott
Banged By Black Guy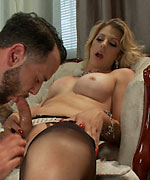 Tranny Babe Tyra Scott
And Her Obedient Slave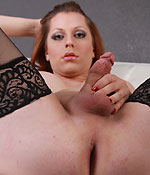 Tyra Scott As Redhead
Shows Off Her Girlcock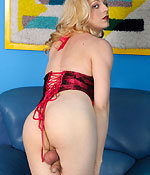 Tyra Pretty In Pink